About Us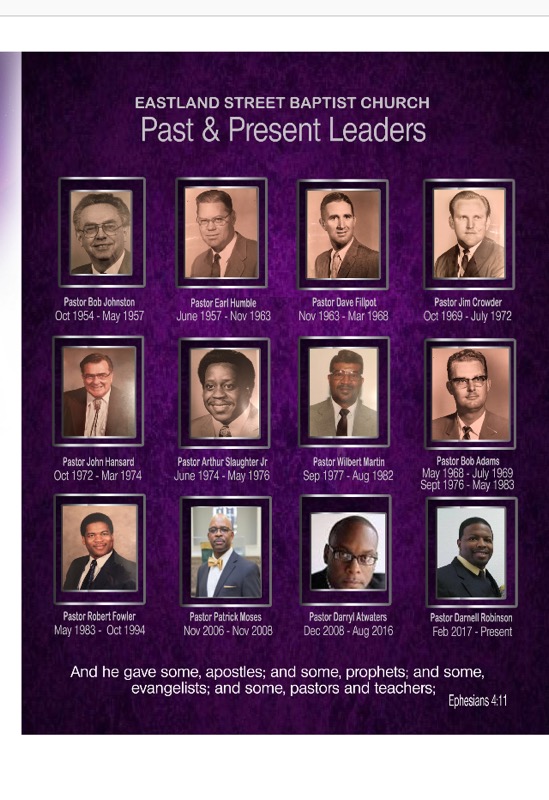 Church History
Launched on Faith – Anchored in Christ
In 1947, Rev. J. W. Stoval and a body of believers in Jesus Christ met in a little frame house in the Oaklawn community of Southeast Ft. Worth. There a Church was organized, and became known as Oaklawn Baptist Church.
In 1955, the Church purchased land in the Eastwood community of Ft. Worth and built a Church on Eastland Street. The name of the Church was changed from Oaklawn Baptist Church to Eastland Street Baptist Church.
In 1959, the work of the Lord continued, with the second unit of the building being completed, with educational facilities for 200 people. In 1962, a new 500 seat auditorium was dedicated.
In the early 60's, the congregation was a predominately white and middle class church, which later became a pioneer of the most crucial frontier in the world – The Frontier Of Human Relationships. The community diversified and black families began moving into the community.
As the white community began to diminish, so did the white membership of Eastland Street Baptist Church. Within a 2 year period, the membership dropped from 490 to 350 members. The pastor at that time, Rev. Dave Philpot, stood firm on the Biblical Truth of Galatians 3:28 ...That we are all one in Christ.
In 1967, the church began a period of integrating the church, Sixty four people joined the fellowship. Thirty seven black and twenty seven white joined. The church was a growing interracial ministry.
In the 80's, a Day Care and a nursing home ministry was initiated.
In the 1990's, the Women's Mission Ministry evolved greatly, providing food for the community, and later expanded and developing a separate ministry, the ESBC Food Bank in 2000.
For 71 years, Eastland Street Baptist Church has been tossed about like a ship on the waves of a deep sea, but we have not sunk; we continue to sail! During the 71 years, we have never lost our focus to Praise the Lord, Perfect the Layman, and Preach the Word. We've never lost our calling, "Seek ye first the Kingdom of God". We've never lost our commission, "Go Ye Therefore – into All Nations". We've never lost our faith which is Grounded and Rooted in Jesus Christ.
Today, under the leadership of our Lord and Savior, Jesus Christ through our Pastor, Reverend Darnell Robinson, Sr., we continue to press forward. We face a spiritual challenge to be a light where there is darkness, strength where there is weakness, love where there is hatred, and food where there is hunger - both physical and spiritual. We've come this far by faith, and we shall continue to move forward, being led by the Holy Spirit. Whatever it takes for the cause of Christ; We Are Willing and Ready – Thanks Be To God!